Steering Wheel Cleaner: 5 Types + How To Clean Guide
Introduction:
This article explains and gives details about 5 types of steering wheel cleaners and the different cleaning methods
Steering wheels are designed differently and each type requires its own type of product and cleaning process
You will learn how to first identify the right product for your steering wheel type, and choose the most effective cleaning method
What is the best thing to clean a steering wheel?
Using a cleaning product that is specifically formulated and engineered for that specific steering wheel material is the best to use
These come in different forms, structures, and densities, to suit the different applications, cleaning methods, and user preferences.
They're available in:
Liquid Detergents
Cream
Foam Cleaners
Gel
Aerosol Spray
Here are just some of the many different types that will help you effectively remove dirt and grime from any type of auto-steering.
These steering wheel cleaners are available at most major outlets, auto retailers as well as online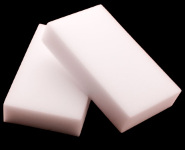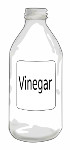 Leather cleaner – Suitable for the cleaning of steering wheel leather, synthetic leather, and vinyl
All-Purpose – Cleans multiple surfaces including plastic and synthetics. does a reasonable job on leather but is not the best option
Wipes – Disinfecting wipes are the quickest way to clean, disinfect and maintain your steering wheel
Natural cleaners – Use organic and natural materials that are good for cleaning and great for the environment, pets, and yourself
Household Products – One of the most affordable ways to clean and maintain your car is with household products like vinegar and bicarbonate soda
Be cautious when purchasing a product and try to choose one that will be suitable for your specific steering material.
Depending on the product that you purchase, you will need to combine this with a practical cleaning method to get the best results.
Therefore, selecting the right product for its intended purpose will make product selection much easier.
What Is The Best steering wheel cleaner?
The best steering wheel cleaner is the one that will help to get the best cleaning results for your type of steering wheel.
This is when it is combined with an efficient and effective cleaning method.
How good your product is, also depends on the steering wheels material and how well it responds to cleaning
Not all fabric is the same, and they do react differently to various products
For example, a cleaner that performs brilliantly on vinyl or plastic is not necessarily a suitable option for leather and vice versa
Best Cleaner For Leather steering wheel
Many of the most popular brands do a good enough job to be mentioned and will do a good enough job
These include:
Leather steering wheel Cleaning Kit
A leather steering wheel will respond better to a specialist leather cleaning product as opposed to an all-purpose cleaner.
These are usually available in a cleaning kit that consists of multiple items
Items Inside Kit
Leather cleaner
Leather Conditioner /Polish
Cleaning Sponge
Microfiber Cloth
Cleaning Brush
How To Choose The Right Product?
Choosing the right steering wheel cleaner is essential if you're wanting to clean your steering wheel properly.
There are however a few factors to consider before making a selection, like the type of material
Follow the guidelines below to make an informed decision
Type Of Material
Not every steering wheel is made of the same material and fabric.
This will therefore would require a different type of product and cleaning approach for each type.

If you are not sure what material your steering wheel is made of, consult your car owner's manual
steering wheel material and construction vary from one manufacturer to the next, and also differ with vehicle age and make.
Here are some of the different types and the most common that is in usage today.
Leather
Normally standard on luxury-type cars a 'real leather steering wheel' will need special leather detailing products.
Faux
Faux leather is a trendy synthetic leather used in most cars today.
It has a beautiful leather look and finish but is much easier to clean and maintain.
Alcantara/Suede
Alcantara steering wheels have a very comfortable suede-like material with a nice touch and feel. However, over time it does absorb oil and dirt from your hands and needs to be maintained regularly.
Vinyl/Plastic
Vinyl and plastic steering wheels are arguably the easiest types to clean
They only require a simple cleaning solution and a gentle wipe to look amazing.
Their look, feel and style can be changed by using a steering wheel cover.
The Cleaning Method
Sometimes you might like to have your steering wheel deep cleaned while another time just a gentle wipe.

To get the job done adequately for your current needs you will need a product that aligns with your cleaning method.
Basic Cleaning
When you don't have much time and need a fast clean then follow this process, which is different from that of a deep clean.
It can be seen as routine maintenance and care to keep your steering wheel looking great
Deep Cleaning
To deep clean a steering wheel, you will need more time and patience if you're to get a more thorough and detailed finish.
You will also need to prepare for a more messy environment so an extra towel would be handy.
Maintenance
Maintaining your steering wheel is probably the easiest way to keep it clean.
It is also the easiest to do with the least amount of hassles
Disinfecting
Use steering wheel wipes to disinfect as well as maintain your steering wheel.
This is also the best way to prevent steering wheel germs and bacteria from building up
How To Clean A Dirty Sticky steering wheel?
To clean your steering wheel you are going to need a few cleaning accessories that are going to make your job easier and more efficient.
These are general instructions and may not be suitable for every steering wheel type.
Get The Right Cleaning Accessories
In addition to the cleaning products, here is a list of some of the items which you may need to make the job easier.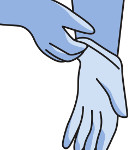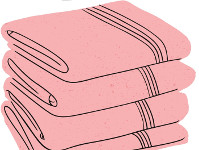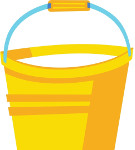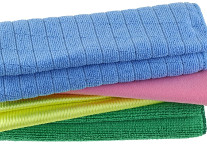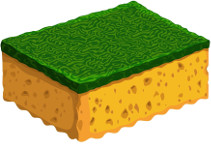 Surgical Gloves – Essential if you don't want any cleaner or grime from the steering wheel on your hands
Old Towels – To prevent any spills on the dashboard and surrounding areas
Bucket – 2 Containers or buckets are ideal, one for soapy water & other with clean water for rinsing
Spray bottle – Use to mix a solution of water and cleaner/detergent for spraying onto cloth or brush.
Microfiber cloth – For wiping off residue after cleaning.
Sponge – Serves a similar purpose to that of cloth
You will first have to make a series of choices.
There are too many variables such as the various types of steering wheel material and the cleaning methods.
Follow the guidelines and instructions below
Decide On A Cleaning Process
You might want a detailed clean or just a wipe down. Whatever the case, the appropriate material needs to be purchased.
There is no single way to clean a dirty or sticky steering wheel, as there are too many variables.
You need to combine one of the specialist steering wheel cleaners with an appropriate cleaning method.
Though there may be various methods, the basic cleaning fundamentals remain the same.
Select The Right Cleaning Product
The first step is to purchase the right steering wheel cleaner for your specific steering wheel and the appropriate cleaning accessories.
This will help ensure that you do the job more efficiently.
Cleaning Instructions:
Place a microfiber towel over the steering column behind the steering wheel.
Use bigger towels to cover and protect the dashboard, gear, and handbrake as well as other exposed areas.
You'll most probably be sitting on the seat, so you will also need a towel for your lap.
This will help to protect other areas of the car's interior from accidental spills
Mix a solution of water and cleaning concentrate in a spray bottle
Alternatively, use a ready-made steering wheel cleaner
To clean your steering wheel, start spraying the cleaning solution onto a sponge or microfiber cloth
Gently rub this onto the steering wheel one section at a time
Use a soft/medium brush and start scrubbing the steering wheel paying special attention to crevices that might have accumulated dirt
Once the entire steering wheel has been covered, use a damp microfiber cloth to remove excess dirt and residue
Wring out the cloth or sponge in clean water to repeat the process until completely clean
Apply a conditioner or treatment to the surface depending on the type of steering wheel
A detailing or old toothbrush is ideal to reach into crevices and difficult areas
Use cotton buds to help remove excess dirt and moisture from tiny crevices
Factors That Will Effect The Cleaning Results.
Type of steering wheel – Vinyl and plastic steering wheels are easier to clean than leather and absorb less dirt.
Condition of the wheel – Very dirty and neglected and sun-damaged steering wheels may not produce the desired outcome.
Time & Detail – If you rush then you won't get the same impact as taking your time, being thorough and detailed
The Wrong Product – Using the wrong product for the intended purpose might produce unsatisfactory results
How To Clean A Leather steering wheel?
Cleaning a leather steering wheel will require a different approach than that of other steering wheel types.
These other materials are easier to clean as their surface is more sturdy and less absorbent.
When cleaning leather you do need to use more finesse as the surface is not as robust as some other materials like vinyl and wood steering wheels, faux, and vinyl
The process is nevertheless simple enough that anyone should be able to do it.
To get started you will need some items to get the job done
Cleaning Instructions
Spray leather cleaner onto a sponge
Rub the cleaner across the surface in small sections at a time
Using a soft to medium-hard brush start scrubbing the covered areas
Take a damp microfiber cloth and gently wipe off the cleaned area
Leave to dry. use a dry cloth to speed up drying time
Pour some leather conditioner onto a sponge and massage it into the steering wheel surface
Leave it to completely absorb and dry
Leather is currently, one of the more widely used steering wheels on luxury and semi-luxury vehicles.
Even though its got such an amazing feel and touch, regular and gentle cleaning is advised.
This will avoid the build-up of dirt and grime which will keep it looking great for many years.
Cleaning Leather steering wheel With Alcohol
Alcohol is not the recommended way to clean your steering wheel there are specialist cleaners for this purpose
It can cause damage and discolor the area that it is applied to
If you do have to go this route, then 70% Isopropyl alcohol is the best bet, even though not the safest
Do test a small portion first using a cotton ball to gauge the result before committing
Rubbing alcohol is effective at extracting oils from leather, but will also dry out the surface which leads to cracking
You should use a leather conditioner afterward to replenish and moisturize
Some of the popular brands that offer cleaning wipes are
Cleaning Leather steering wheel With Magic Eraser
A magic eraser will do wonders in cleaning and restoring a leather steering wheel
It should however be used with caution as it is abrasive
if you combine it with an all-purpose cleaner, your results will be amazing
It is not recommended though to use it on old or worn-out leather, as the abrasiveness could further damage
Should You Clean Leather Steering Wheel With Baby Wipes?
Though baby wipes are good for mopping up spills around the car's interior, they are not recommended to clean leather steering wheels
Rather make use of the specialist car wipes for leather that are widely available
AmorAll
Clorox Wipes
Lysol Wipes
Here are some additional resources showing various cleaning methods and the different procedures.
How To Clean Different Types Of steering wheels?
It is not very beneficial to give instructions on how to clean a steering wheel as there are different material and fabric variations.
For example, deep cleaning a leather steering wheel will require a much different approach to regular maintenance of a vinyl or plastic steering wheel.
Here are the cleaning instructions for the different steering wheel variations
Cleaning Alcantara steering wheels
Follow the process as described in the article above but use a brush to agitate and loosen the embedded dirt.
Leave to air dry completely
Cleaning A Faux steering wheel
This type is easier to clean than real leather and you can also use a variety of products without any complications.
Vinyl and Plastic steering wheel Cleaning
Vinyl and plastic steering wheels are less complex and much easier to clean.
You can therefore use any good all-purpose cleaner or a specialist car interior cleaner to get the job done.
All you need is a sponge or microfiber cloth to apply the product to the steering wheel's surface.
A gentle wipe after should be sufficient to remove all of the built-up dirt which accumulated over time.
How To Take Care Of Your steering wheel?
For your steering to have all-around protection against germs as well as the elements, it is necessary to give it regular care and protection.
Here are a few ways that you can do this.
steering wheel Wipes – Use for quick cleaning, especially after eating. steering wheel cleaning will never be a hassle with these alcohol or non-alcohol-based wipes
Melamine Foam – Wet or dry, a magic eraser to quickly and conveniently clean your steering wheel on the go.
steering wheel Kit – Keep a car cleaning kit nearby for effortless cleaning anytime or in any place
steering wheel Cover – They're trendy and stylish and very easy to fit and protect from dirt, grime, and the elements
Conclusion:
Your steering wheel has got to be the dirtiest and the most germ-infected section of your car, but for some reason, the most neglected where cleaning is concerned.
As you can see, there are many steering wheel cleaners available to clean the various types of vehicle steerings
There are also many methods to add to the confusion
We hope that this article was instrumental in helping you to find the right product and cleaning solution.